2018-05-09 22:48:37
Microsoft SharePoint Consulting

As a top ranked US Microsoft SharePoint services firm, New Peak Solutions helps organizations leverage the full capabilities of SharePoint and SharePoint Online. Our SharePoint consultants have years of practice in this area and its related technologies. We help organization to take full advantage of this powerful platform using all our technical expertise and know-how. We encourage companies and firms to leverage this technology and its many great features including document management system, enterprise search, content management, collaboration, information architecture, knowledge management, business intelligence and many more.

This software is used by companies all over the world. Please reach out to us to learn more about our services, software development skills and see where we can help improve your current experience.
Contact Our Expert

Eugene
SharePoint Consultation Services
Phone: (312) 487-1210

Our Services
Our Microsoft SharePoint Consultant Services

Below is a list of the common top SharePoint features and benetits that New Peak Solutions have been providing for our clients. Click the link to get some more detail about each one. If you need another feature related to SharePoint or Microsoft Office 365, that is not listed here, please contact us for more information.
SharePoint Intranets
Transform the way people work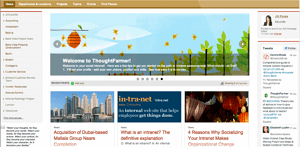 Intranets portals form the hub of your organizations data. Our SharePoint agency can help you plan and build a successful
Microsoft SharePoint Intranet
and will work with you every step of step of the way including
Define requirements that meet your business goals to increase productivity
Create a site design that provides a rich user experience for your Portal
Incorporate your company's branding and up to date news and events
Develop useful processes that helps automate each business process such as Paid Time Off (PTO)
Generate workflows that help streamline processes improving overall productivity
Integrate with other business systems in real time
Application development
Our enterprise group has vast experience in SharePoint implantation working for many customers across multiple industries ranging from small business to large organizations.
SharePoint Apps
Provide for your needs
Sometimes you need code to solve a problem. Our SharePoint consultants can construct both custom SharePoint web parts and apps. Our app development professionals have built many solutions and can customize to meet the client needs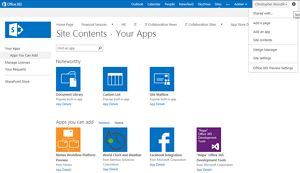 custom application links etc.
Name the application or custom web part and we can develop it.
SharePoint Extranets
Share content with your clients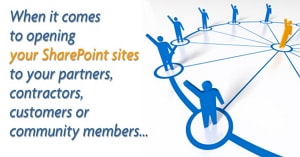 Extranets allow you to Share internal information with your clients and vendors in a secure fashion using templates. This can give your organization a competitive advantage on the competition. Allow your customers to access relevant real-time content anywhere and anytime in privacy. Using built in security you can expose important data for your customers and vendors in a SharePoint subsite.
SharePoint Integration
Display all your content in one location
With integration we can expose data from various business systems in SharePoint. We expose data from a wide range of business systems from within your environment. With this integration your users can see all the relevant data they need in one central place. Our SharePoint consultants have experience in integrating with many business systems using REST web services. We lead the way in integration with Microsoft products. We have integrated with systems such as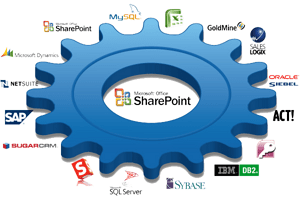 Our consulting services agency have integrated SharePoint data with many ERP and CRM systems with global customers. We can pull data from any system that has an exposed API and design a dynamic SharePoint CRM solution.
SharePoint Dashboards
View all the relevant data
Many businesses using SharePoint and
Office 365
are looking to implement custom software dashboards. This has a been a popular request with many of our client consulting jobs over the past few years. With SharePoint customization we devise dashboards to help provide superior technology solutions and increased productivity
SharePoint Forms
Advanced Form Creation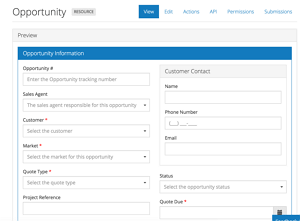 There are times when out of the box forms don't cut it. The technology may be too rigid and don't allow you to present the form in a manner you would like. We use a modern approach with technologies such as Angular JS and PowerApps. With these we can create rich forms with advanced functionality that helps the automation your business processes. This SharePoint company has experts who have built SharePoint advanced forms for many businesses. These include workflows, reporting and many other features. See our SharePoint Forms page.
SharePoint Websites
Market to the world
Put your best face forward to potential customers with a superior web development. With our web design skillset, we can provide you with a rich and interactive website for any industry. We have currently moved into Sitefinity for website design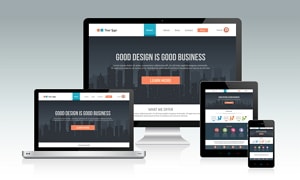 SharePoint User Adoption
From our studies, this is a critical area for a successful SharePoint project roll-outs. It is important to focus on these critical areas when implementing new environments or large changes. Getting the deployment correct the first time really helps a large implementation and keeping your user base happy. Read more about SharePoint adoption here. In that article we discuss come of these following areas.
Gathering detailed Business Requirements
Implementing SharePoint in Phases
Deployment in Phases
Case Studies
User Experience
Marketing the Solution to your employees. Communication about the upcoming solution
Effective education and required Training of the users in this technology
Branding the solution to match your organizations brand
Improved functionality and features with proper configuration for the employees
Having an Owner / Champion for the project can be a key to success
SharePoint Branding
One of the challenges and a common question we get asked by many of our corporate clients is "Can we make SharePoint look different so that it matches our organizations branding?". Does your existing Intranet need a change? A lot of times when staff encounter SharePoint, they do not find it as attractive as they would like. New Peak Solutions have worked on hundreds of sites, developing modern and stylish quality sites using custom SharePoint solutions and best practices.
SharePoint provides a feature-rich CMS that allows for extensive customizations to the look and feel. Many tasks can be simple such as adding your logo or updating a color scheme. However, many enhancements are difficult to enhance such as navigation, styling web parts etc. This is where our SharePoint developers can be of assistance to your organization with the branding of this software. Giving your employees a common branding experience makes total sense.
SharePoint Collaboration
Many users don't realize that SharePoint can be much more than an intranet until they are shown some of the brilliant collaboration tools that come with it. These tools can male life much easier for your employees. From department collaboration using SharePoint sites for departments or projects, document management or automating manual processes. Some of these technology features include
A standard way of working. Using templates, all sites can have the same or a similar structure.
Options of different widgets such as Documents, Calendars, Tasks etc.
Security features so only people who should have access do have access.
Team Sites in SharePoint online or SharePoint server on-premises
Microsoft Planner for project management
Social communication between different MS tools
Skype for Business
Microsoft Teams
SharePoint Migrations
Planning and completing a migration can be a difficult and time-consuming task whether you are moving to SharePoint from a legacy system or just managing an upgrade in version. Our dedicated migration specialists can help your organization map out and successfully run your migration within your architecture. In general, we us Sharegate as our migration tool. These can generally be broken down in order of the following tasks
Planning the strategy: This is a critical first step, where it is necessary to compile an inventory of the site structure, content and permissions and users. From this analysis and assessment, we can plan what needs to be migrated, removed or archived into storage.
Migrate to SharePoint server or online: Either moving all your content together or moving in phases, we consult on many different approaches. Each company will have their own preferences which we will work on in partnership to figure out.
SharePoint Managed Services
We help businesses maximize their investment by bringing our vast experience in SharePoint with our Managed Services resources. We help to proactively
evolve,
enhance performance,
perform maintenance,
recommendations, advantages and guidance on the best use of SharePoint for your organization,
compliance,
address any issues,
microsft sharepoint training classes and education
support and manage the health of your SharePoint infrastructure.
Our agency can offer your corporation customized solutions focusing on your business needs, employees and your future business success.


Deployments tend to be expensive and it is important that investment does lose momentum after launch. Our enterprise level group have expertise in not just SharePoint support but in all the Microsoft suite of products. We continue to stay up to date and pass all the relevant information to you, so you can stay up to date with all the latest tools and functionality. We help your business get all the benefits of SharePoint by implementing a managed services strategy. Make SharePoint a big gain for your organization.
SharePoint Workflows
SharePoint is a fantastic platform you share and collaborate within your organization. Once such feature is workflows where some process needs an approval, or a business process needs to run. There are many ways to create a workflow or jobs in SharePoint and our certified application developers have worked with all of them from small to complex. Some of the software and technology solutions we use are featured below.
Microsoft Flow
SharePoint Designer
Nintex (One of our trusted partners)
SharePoint and Power Apps
PowerApps allows power users to develop and publish applications for both the web and mobile using an ease of use web-based tool. This tool following up the very popular InfoPath allowing for code-free simple and complex for design. This technology allows us to deploy to lists as one of many available data sources. Outside of SharePoint that are literally tons of data sources allowing us to provide rich and powerful solutions. We were one of the first consulting companies to develop these enterprise mobile applications using this tool and find this to be a big upgrade on InfoPath.
5 reasons to hire a SharePoint Agency
Technical Capacity
Clients often do not have the in-house capacity to handle SharePoint Projects. This may be a lack of expertise within your IT department in SharePoint or the oposite where the staff have the desired skills but not the time needed to complete a project in time.
Price
While rates can appear expensive, they usually are a great investment. An agency comes with a broad skillset that comes from many espert resources that you cannot get from a couple of employees. Also you can turn our development tap on and off at will.
Focus on the present and the future
Our team are always up to date on all the latest functionality in SharePoint and Office 365. With our knowledge we can help keep you stay ahead of your competitors by using your Microsoft products in the best way.
Staged Approach
We manage projects in stages. We build out logical solutions using best of practice approaches. With this controlled approach we build out great solutions while giving you the flexibility to change direction or alter the plan.
Partnership
Building a long term partnership with a SharePoint agency allows you the client to focus on what you do best and allows us to support with what we know best. SharePoint and Office 365!
SharePoint Consultants Company - New Peak Solutions
Delivers a superior customer experience. One of the elite SharePoint Development companies in the United States
Our service team have expert knowledge in SharePoint (2010, 2013 and 2016) and Microsoft Office. They will ensure your company both understand and leverage the power of SharePoint. It is our policy to help you put a plan in place to drive adoption and achieve future growth. New Peak Solution is rated one of the leading Microsoft consulting services firms in the United States with very competitive SharePoint consulting rates and many success stories. Please reach out to us for a free consultation and testimonials.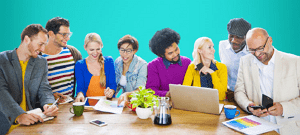 We specialize in Microsoft technologies serving clients throughout the USA including
Columbus - Louisville - Washington DC - Boston - Austin - Charlotte - Cincinnati - Tucson - Kansas City - Houston - Milwaukee - Chicago - Tampa - Phoenix - Philadelphia - Orlando - Detroit - Nashville - Jacksonville - Albuquerque - Atlanta - New York - Dallas - San Diego - Minneapolis - Indianapolis - Cleveland - St Louis - San Antonio - Portland - San Francisco - Des Moines - Las Vegas - San Jose - Seattle - Denver - Sacramento - Los Angeles - Oklahoma - Miami - Pittsburgh - Salt Lake City