SharePoint Intranet Portfolio
Home
SharePoint Intranet Portfolio
Transform Your SharePoint Intranet
Welcome
We are so glad you have stopped by!
Looking to build out a new Intranet or redesign an existing SharePoint site?
Please read on to see examples of our work and learn about our process.
Table of Contents
Benefits of a SharePoint Intranet
Communications and Branding
Improve companywide communication
Connect your company across locations and time zones
Provide engaging content
Communicate with work from home staff
Make life simpler for new onboarded employees
Reinforce your brand and values
Improve employee engagement
Bring your workplace culture to live
Improve employee loyalty and sense of belonging
Boost recognition and reward

Content & Collaboration
Communicate with your staff in a central place!
Building a new Intranet
Starting from a blank slate? This is the simplest scenario and allows us to make a great first time impression with your staff.
Define the content for homepage and department sites
Incorporate your organizations branding into SharePoint
Build a beautiful and modern UI
Set up security and roles
Create a simple CMS (Content Management System) to easily manage content
The finished product will be a great new Intranet that can be easily self-managed without any outisde assistance.

Transform existing Intranet
There are many reasons why people come to us to redesign their Intranet Homepage or entire Intranet such as
Unispiring design (See opposite image)
Poor user adoption
Difficult to manage content
Lack of company branding
A staff bias against SharePoint based on prior experience
We are here to help you transform your current site and get your staff excited about a new SharePoint Intranet experience.
Transformed Homepage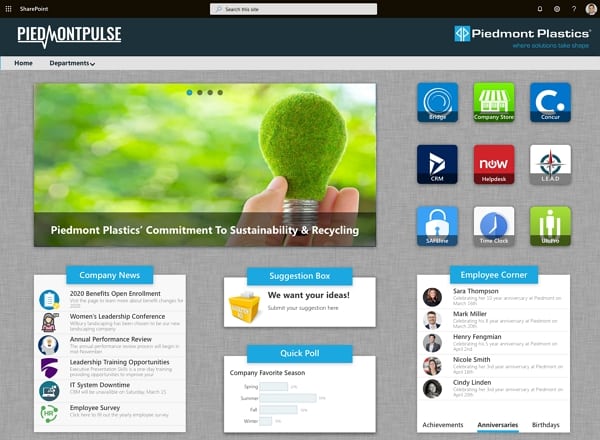 Common Homepage Components
We have incorporated many SharePoint components into homepages. Below are some common content compenents.
New and Announcements
Management and Executive Blogs
Quick Links to applications
Commonly used files & links
Calendar & Events
Metrics and Surveys
Employee Corner
And much more...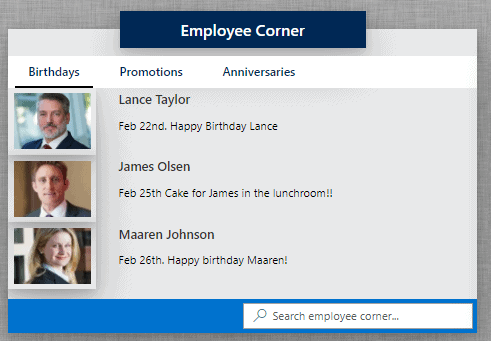 Employee Corner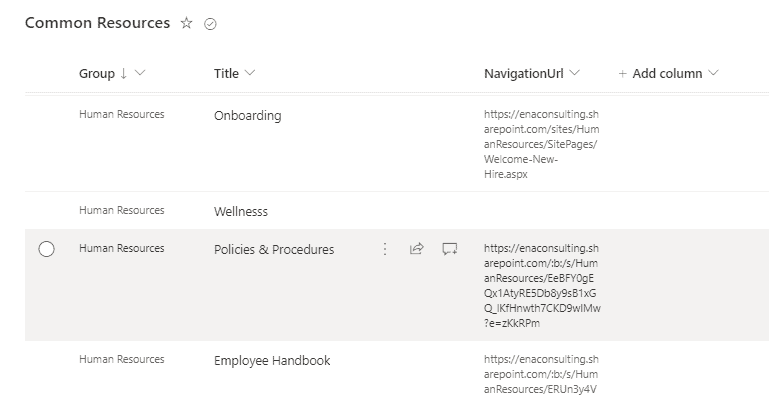 Simple SharePoint List CMS (for entering content)
How it Works
We have extended Microsoft technology to greatly improve functionality and simplify content management.
This has the following major benefits
Use simple SharePoint lists for Content Management.
Ability to queue up informationto display on certain dates.
Flexible design such as Scroll Limits. Keeps all content properly aligned on page unlike SharePoint out of the box.
Security so only the specified users can modify content .
How we work
We have a trusted and transparent process in place which ends with. All steps below are FREE of charge
An Estimate, Timeframe & Roadmap for your Intranet project
A Demo of our vision for your Intranet
Step 1: Contact us to set up a Welcome Call. On this call we will
Say hello and discuss your initial Intranet requirements
Demo an exmaple of our Intranet
Step 2: Short back & forth process with additional calls where needed
We provide a simpe Questionnaire to help refine requirements
We build out a new demo site just for you.
(Get to see a working example of Intranet with your branding)
Final presenation with Costs and Timeframe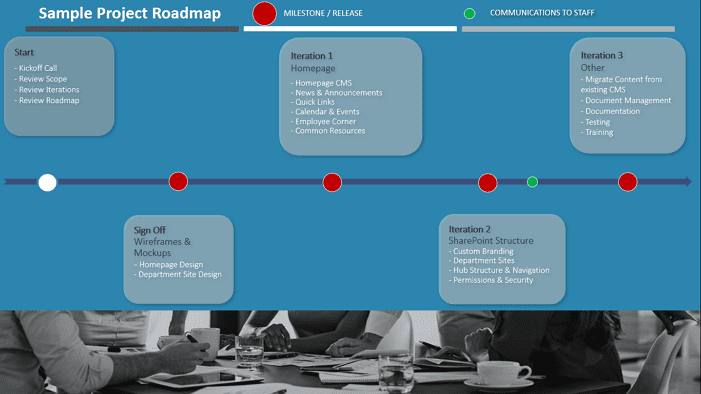 Sample Roadmap Click Image to enlarge
Moving Forward / After the Intranet
As mentioned earlier, we build out Intranets in a way that are simple to manage without our assistance. We are of course, always available if you need help or if you want to add new features. We love building long term relationships with our clients. Below are some of our additional offerings
General Office 365 / SharePoint Support
Getting the best out of Office 365 Tools
Using MS Teams for
Collaboration
Project Management
Automated Business Processes and workflows
Transforming Excel spreadsheets
Building portals such as PTO, Onboarding, Benefits