| | |
| --- | --- |
| | |
| New Peak Solutions - Office 365 Consultants | |
| | |
| Microsoft Office 365 is a major growth area with Microsoft offering SharePoint Online as a service for businesses of all sizes. Organizations can subscribe online to this cloud-based service. SharePoint and O365 lets you collaborate with your colleagues and customers from anywhere at any time. Microsoft has moved towards a cloud platform integrating its different products such as SharePoint, Office, Yammer and Lync in the cloud. This will mean future software enhancements are more likely to be introduced to their cloud based products and not their on-premise ones. With this movement a lot of Fortune 500 companies have already moved or are in the process of moving their Microsoft environments to the cloud. Let our Office 365 experts help you when you make the move with our advanced Office development skills and superior knowledge of Office 365 products. | |
Contact Our Expert

Eugene
Office 365 Consultation Services
Phone: (312) 487-1210

Our Services
Office 365 - Advantages of Hosting
Hosting SharePoint can provide your organization with the collaboration tools they need without the hassle of administration. Some of these advantages can be seen below. Talk to our consultants to learn more about how we can assist you in getting the most from your subscription.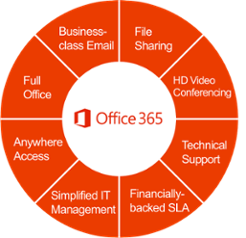 Greater productivity from a mobile workforce
Less expensive infrastructure to setup and maintain
Less expensive hardware and software to be purchased and maintained
Built on a dependable Microsoft platform
Out of the box solutions customized for collaboration in your organization
Office 365 - Deployment and Migration
Our team cover the full spectrum of technologies on offer across the various plans for Office 365 Enterprise (E1-E5). Our Microsoft Office migration team have many years experience migrating from various different systems such as Lotus Notes, file-shares, Google docs etc.
Office 365 migration services for your company and all your content
Exchange Email migrations
Training for your company on using Office
Lync online deployment
Skype for Business
Planner for Project Management
SharePoint online deployment and development. Tools such as Teams, Groups and Planner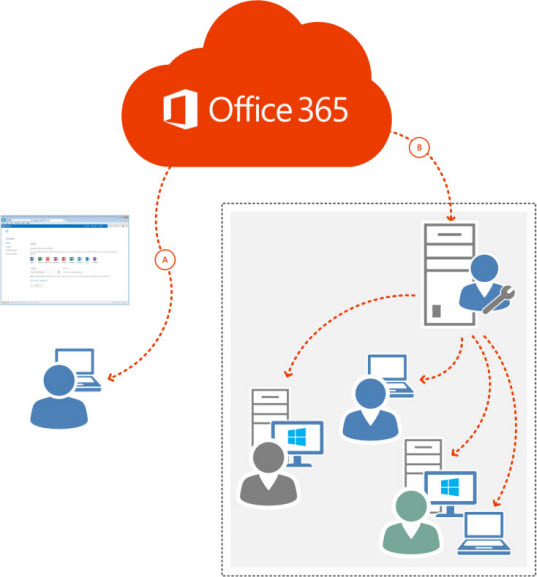 Office 365 - Development and Customization
Build for your needs
Once you have your new SharePoint and Office 365 hosted you may find you need to expand their capabilities via Office development. Our O365 Services team can help you
Brand your SharePoint Online environment to incorporate your organizations look and feel using SharePoint designer.
Integrate SharePoint Online with Office to increase its functionality.
Integrate with other back-end systems from ERP to CRM. Connect to SQL, Oracle and many other databases using our development development capabilities.
Automate your business processes with InfoPath forms.
Incorporate workflows into your online environment to streamline your business processes.
Develop SharePoint apps with the new SharePoint development model.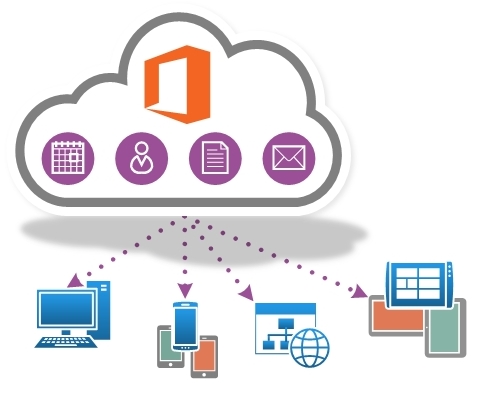 Microsoft Office 365 - Governance
Our Microsoft Office consultants help you define management of the overall platform and define the related responsibilities and roles within your company, establishing rules for its appropriate usage.
Our in-depth strategies outline how both the business and technical users leverage the system with the required balance of needed restrictions and enterprise compliance policies allowing for growth and future change. Our Consulting firm have years of experience in planning, implementing, covering many governance scenarios in multiple industries as one of the top consultancy companies in the USA.
Office 365 and SharePoint
SharePoint has numerous uses but in the majority of our work we see it used primarily for
Company Intranet and Portals
Forms and Workflows
Content Management and Collaboration
Business Intelligence
Company Intranet and Portals
Probably the most common work we do in Office and SharePoint is creating custom Intranets. Whether an SMB or a larger client, having an Intranet to access important content is the way to go. Looking for information on your benefits or 401k info? Where do I look? Like everything else! On the Intranet. With your help we can provide your employees with access to just about any resource in a centralized searchable location. Branded landing pages We build out modern and professional sites that include many of the following features.
Custom branded navigation
Executive Announcements and news
Web parts and web apps
Company policies and procedures
Organizational announcements for areas such as Human Resources and IT
HR systems such as PTO, New Hires, Onboarding
Quick Polls and common links
Department Sites
An example of our Intranet Design and Branding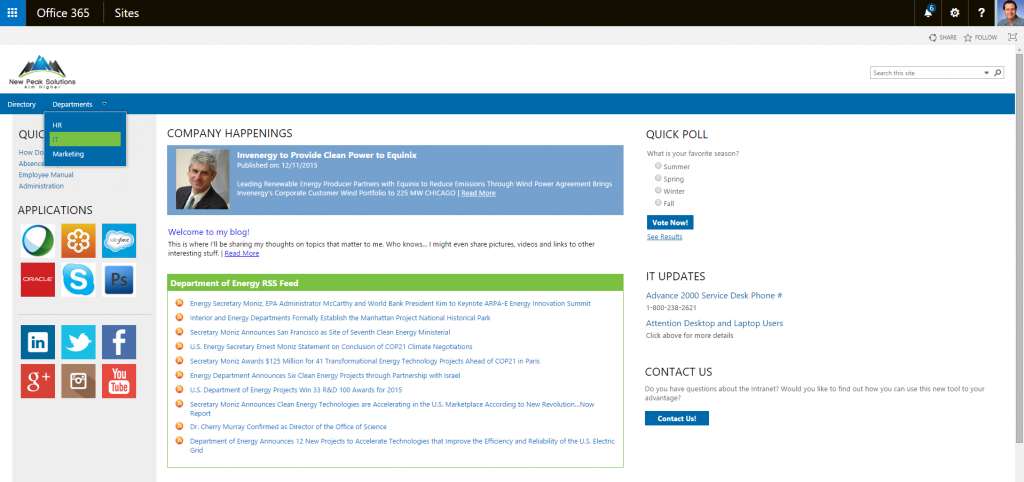 Forms and Workflows
Microsoft Office works greart with SharePoint for automating processes. We have worked with many clients in various industries to help improve their processes and help their bottom line. By working togther we can overcome common challenges that many companies have.
Bottlenecks - the halting or slowing of a process at a some stage due to a human/machine error or difficulty.
Duplication of work and redundancy – inefficient processes often include sections that are unnecessary or repeated.
Poor accessibility to key data – management struggle to view where a processes stands, what the status is, and ability to view critical data.
Integration issues – poor or no integration with existing systems, which can cause communication gaps.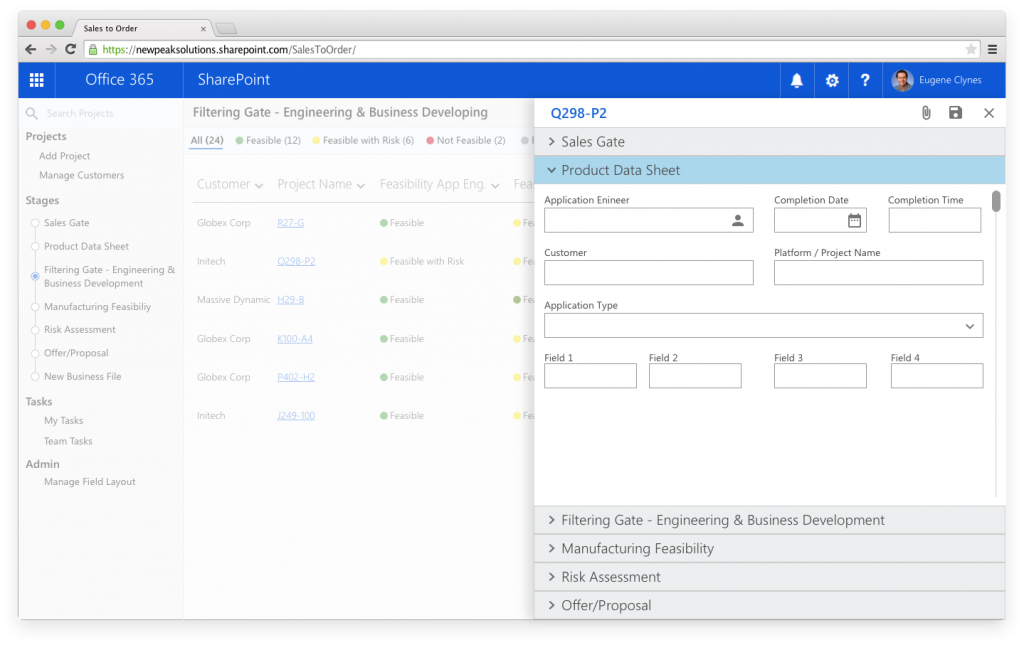 To improve these areas above our consultants combine the following technologies to build out great solutions
Forms
To build modern and responsive forms for the modern employee who may be working anytime and anywhere. We use several technologies built on SharePoint and Office 365 such as React JS, Angular JS and the newish Micrososft forms technology Power Apps.
Workflows
Workflows make the process run smoothly by notifying users and teams of actions they need to underatke. Using workflows technologies like Microsoft Flow and Nintex allow our consulting team to put these in place.
Dashboards
A central repository of data that allows employees, teams and executives see real time data anywhere and any time.
Reporting
We create feature rich reports using technologies such as Power Pivot and Power BI.
CMS and Collaboration
SharePoint mainly originated as a content management system and it is indeed still the best CMS on the market. It lays out information that is available to employees throughout your company that can be accessed anywhere at any time. This data is stored securely where users can share, store and collaborate.
While File Shares continue to be popular, they do not offer much apart from file storage. The main advantages of using Office 365 / SharePoint as a CMS are
a central place for storing documents that can be tagged and contain metadata to make them easily searchable
because information is easy to find, employees do not need to waste time trying to find them in network shares, local drives etc.
workflow can help route content to the appropriate people at the appropriate time
check-in and check-out allows employees to work securely on a document without having their changes overwritten
versioning allows for the restoring of documents to an older state
permissions can be very granular allowing different rights to different people
allows secure access outside VPN connections which can be cumbersome for employees
share data with external users such as clients and vendors
Business Intelligence
Another popular area in Office 365 and SharePoint is business intelligence. Using SharePoint as centralized platform for BI makes a lot of sense. Integration with applications such as Excel, Access, SQL and external data systems such as SAP or Oracle can surface all your critical content into one central area. This in turn dramatically improves the ability of key decision makers to get a full view of relevant data which in turn helps them make the right business decisions. We use some of the following tools to build great reports such as
Power BI
Power Pivot
PerformancePoint
Visio Services
Delve allows users to search, discover and organize data throughout the Office suite that is relevant to them. Delve is powered by Office Graph. From SharePoint to One Drive, Delve surfaces content based on what project or items you are working on and who your are collaborating with.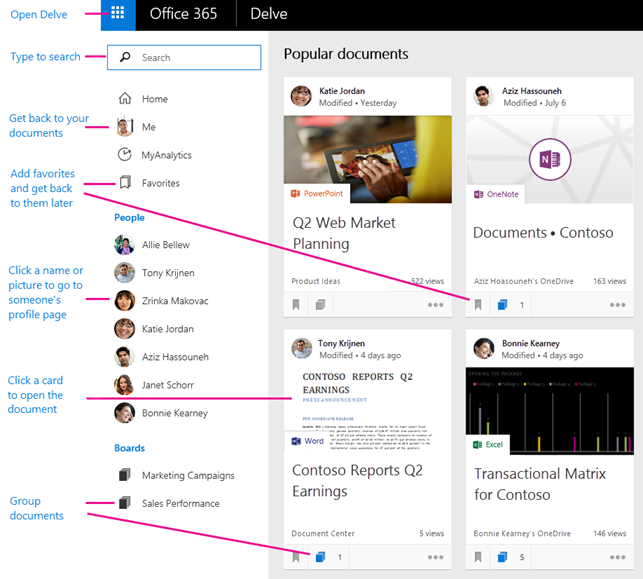 Some of the major benefits of Delve and are
Customize your profile to display information about yourself such as profile, picture, skills and competencies, current and prior projects. This can make your employees easily searchable within your organization allowing subject matter experts to be accessible.
Content cards can display documents with name, recent activity and images giving relevance to the user.
Boards can be created for projects exposing all the relevant information needed for that project.
Delve for Office 365 is mobile compatible so employees can work anywhere anytime.
Office 365 and Microsoft Teams
Microsoft teams is a great tool used for as the title suggests "Teams". It allows teams to easily collaborate, share content in today's modern work environment. Microsoft Teams is built as an open, digital environment that makes all project work visible, integrated and accessible—across the team—so everyone can stay in the loop.
Office 365 - A Microsoft Partner

Delivering great customer experience

Our consultants have expert knowledge in Office, SharePoint and support Microsoft technologies. Our vastly experienced team can help your organization leverage the power of Microsoft's leading sharing and collaboration tool. Our goal is to help your company achieve continued growth and prosperity, our team will put a plan in place to drive user adoption and continued success.

Office 365 Development company serving clients throughout the US

Below are some of the services we offer for

Office 365 Services

Getting up and started with Office 365 can seem a little daunting. There are so many options and it can be hard to commence the process. Our consultants can help you get on your feet by creating a road-map with short, medium and long term goals for your implementation. Working together we can come up with a comprehensive plan.

Office 365 implementation

From our road-map we can start building out the Office 365 infrastructure including choosing the right licenses needed for your plans.

Office 365 customization

As discussed earlier on this page, our consulting team have expert knowledge in the customization of Office 365 and SharePoint. From building custom SharePoint Intranets, complex processes that improve your business performance and reporting so you can view important data in a centralized place we have the team to bring your environment to the top level.

Office 365 migration

We have vast experience in migrating data from just about anywhere into Office and SharePoint. This migration also gives you the chance to clean house as such. Doing an audit of all the content that need to be migrated can give you a change to archive all data and documents that are no longer in use.

Office 365 integration

Integrate other business systems with Office 365 to get a comprehensive view of all your organizations data. Our consultants have integrated with many business systems giving our clients full insight into all the information they need to make smart business decisions.

Office 365 support

We can be there for you for all steps of your implementation including support if needed. Our full services include a strategic partnership and managed services so your organization can concentrate on your strengths and we can use ours to fully support you.

New York – Chicago – Dallas – Houston – Los Angeles – Philadelphia – Phoenix - San Antonio – San Diego – Seattle – Austin - Milwaukee – San Francisco – Boston - Columbus – Denver – San Jose – Charlotte – Detroit - Indianapolis - Atlanta - Des Moines - Portland - Albuquerque - Washington DC - Sacramento - Las Vegas - Tuscon - Salt Lake City - Oklahoma - Kansas City - Minneapolis - St Louis - Tampa - Orlando - Miami - Jacksonville - Nashville - Louisville - Cincinnati - Cleveland - Pittsburgh